Creating, updating and deleting tracks all happens in the Track Manager. After logging into SpotWalla, you can access the Track
User Menu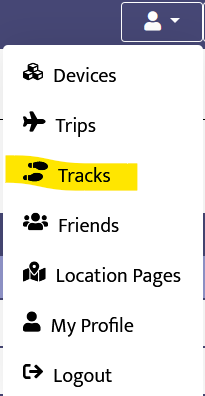 Dashboard

From the Track Manager you can create a new track by clicking the New Track button. If you have one or more tracks, they're displayed in a list. You can update or delete a track by clicking the track name and selecting Update or Delete respectively.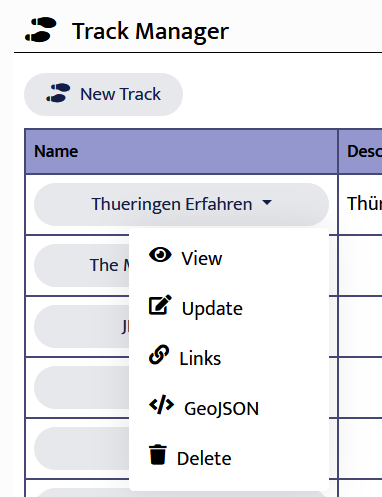 As you can see in the above image, you can also view the track on a map, obtain links of your tracks or view the source GeoJSON too.
When creating or updating a track you'll need to supply essential information like a name and an optional description. If you want to share this trip publicly, enable the option to make the track public.
If you're updating an existing track and don't want to change the track data, just click the Update button and you're done.
If you're creating a new track, you'll need to use one of the four options to provide the track data. If you have a KML or GPX file, we'll convert it to GeoJSON for you. If you have a GeoJSON file, upload it. If you want to use your device data to build a track, select your device and the date range and we'll build a track for you.
When finished, click the Create button. Now you can view and share the track and overlay it on your trips.