Creating or updating trips start in the Trip Manager. If you're logged in, you can get to the Trip Manager from Your Dashboard or from the user menu at the top of the page.
Dashboard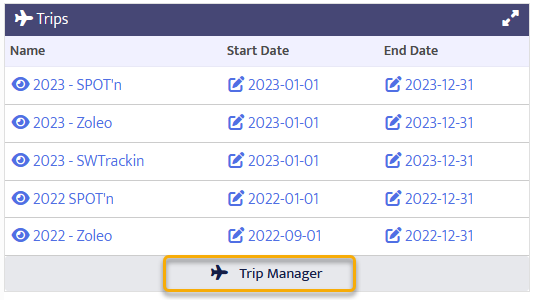 User Menu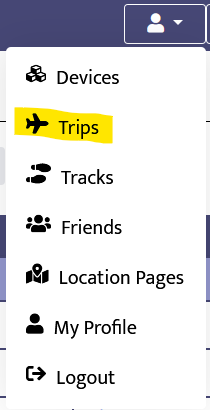 The Trip Manager groups trips by their end date. Within each group, they're ordered by name.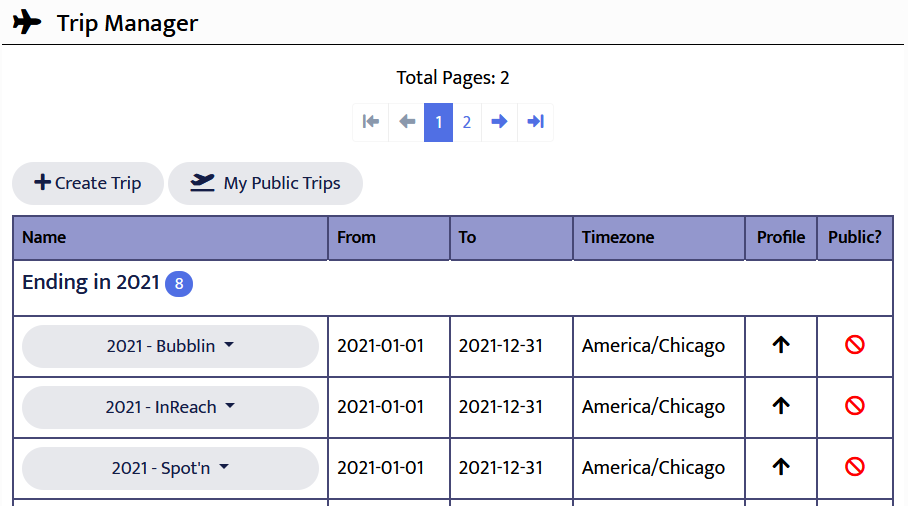 If you want to create a new trip, click the Create Trip button toward the top of the Trip Manager. If you want to share all your public trips with family and friends, click the My Public Trips button. A window will appear with your public trips link. Share with others however you see fit.
To update a trip, click its name and select Update from the menu. Trips have a lot of settings. There are four groups of settings:
Basics - Essential and required information.
- Security-realted settings.
- Additional settings that are not required.
- Track overlays displayed on the trip map.
Each group of settings can be viewed by click the group tab at the top of Create Trip screen as shown below.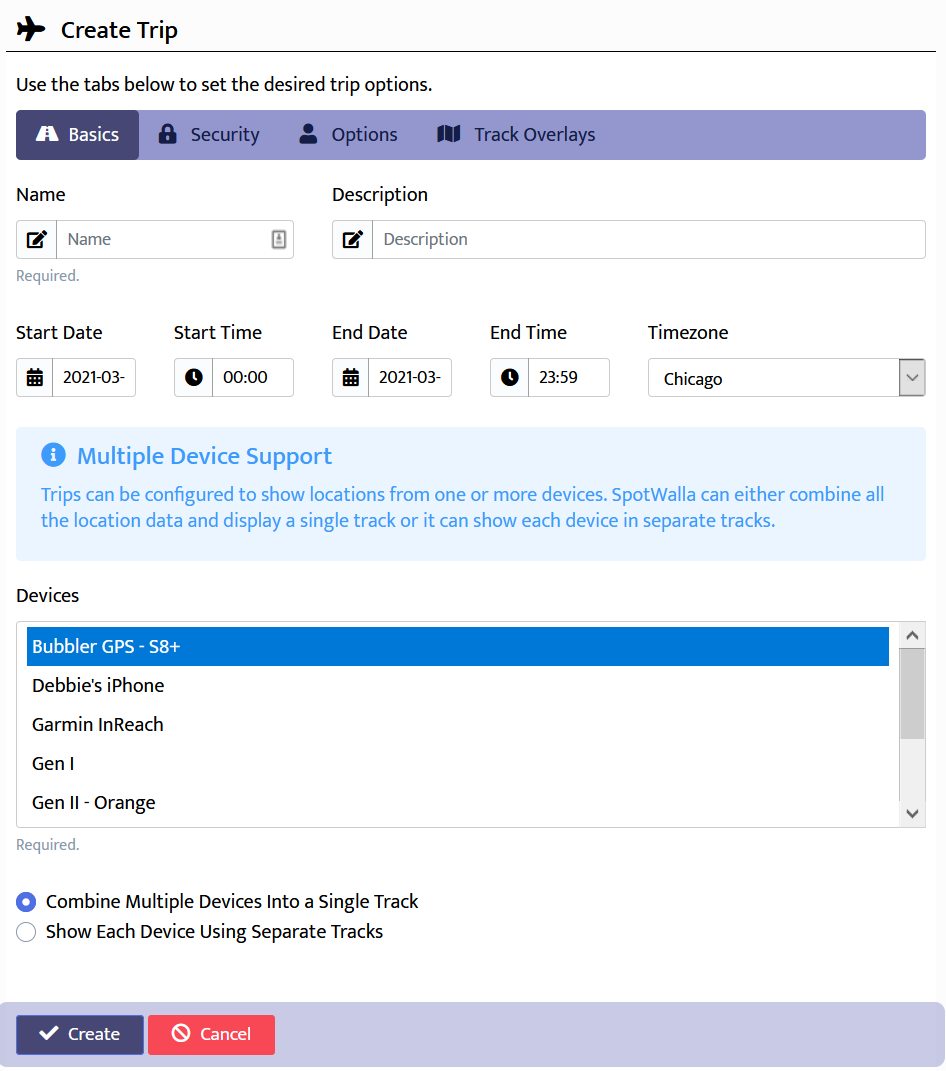 Basics Tab
The Basics tab options shown above include the trip name, description and start/end dates. You will also choose one or more devices to display on the map as well as how to display each device on the map.
Pro Tip
To select more than one device or deselect a device press and hold the Control key and click the name in the device list.
If multiple devices are added, you can combine the devices into a single track or show each device in a separate track.
Security Tab
On the Security tab you can choose to apply active secure zones or not. If you're creating a private trip that will only be shared with family and close friends, you may not want to honor secure zones so everything is displayed. On the hand, if you're creating a public trip, applying active secure zones is a good way to protect sensitive locations like your home or place of work.
Some other security options determine if the time component and speed data will be displayed in the message detail popup.
The difference between a public and private trip is that public trips can be searched for and viewed by anyone. A private trip will never show up in search results in SpotWalla.
Enabling the download option for a trip will allow anyone viewing the trip to download all trip locations in various formats. Only enable this option when necessary.
You can also add a view password to the trip. This is an added layer of security you can use to protect your location.
Lastly, you can prevent certain types of messages from being displayed on the trip. For instance, if you use OK/Lodging messages to mark your overnight stops and you're creating a public trip, you may want to hide OK/Lodging messages.
Options Tab
On the Options tab you can change the trip profile (e.g. Motorcyclist, Directional, Sailor, Runner, etc). You can also set the initial map type (e.g. Street, Terrain, Satellite and Hybrid) and control how the map will be rendered initially.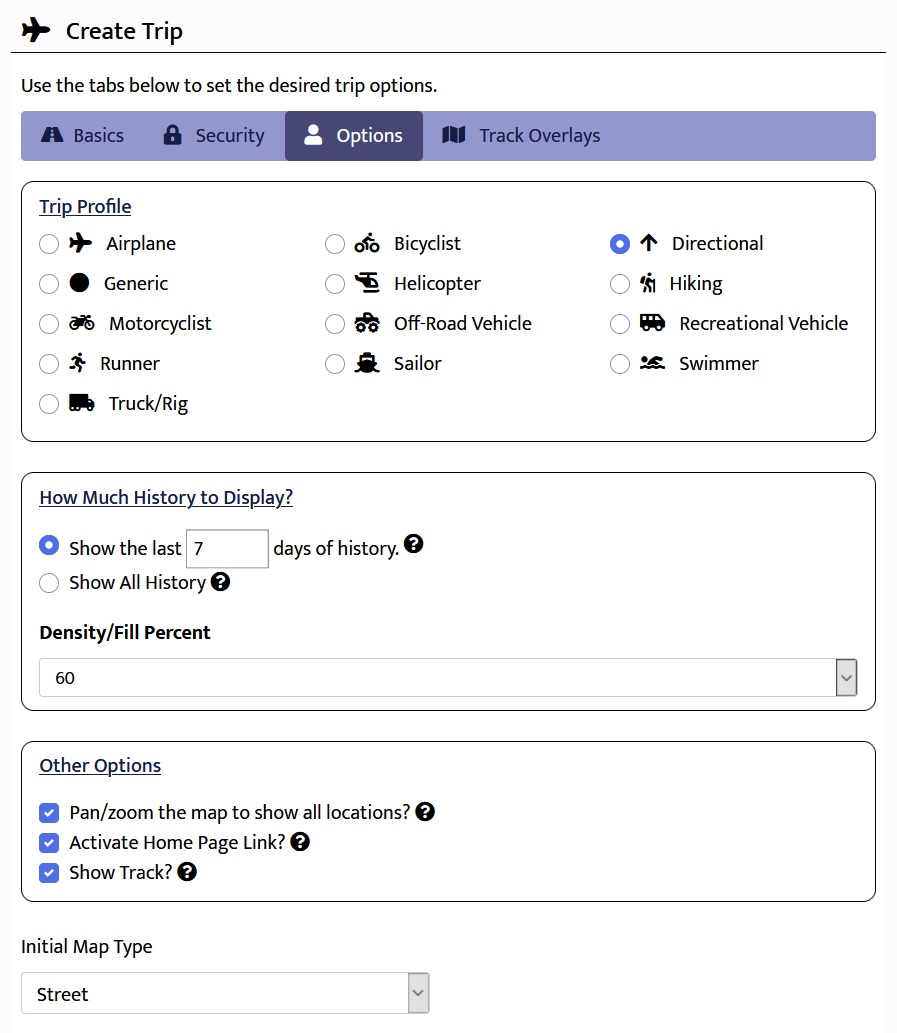 By default SpotWalla will only show the last 7 days of history while your trip is active. You can override the number of days or you can choose to display all history. And using the Density/Fill Percent setting, you can control the number of locations (the density) returned. This can have a huge affect on how the trip looks to the viewer.
The other trip options allow you to pan/zoom to show all locations returned or pan/zoom the map on the last known location. If you're embedding the trip in a web page, you may want to disble the home page link to prevent viewers from being able to browse SpotWalla within your website. The Show Track option will show the underlying track or not.
Track Overlays Tab
If you have tracks defined in your account, you can overlay one or more on your trip.