SpotWalla Newsletter
2023 Volume 3, Issue 1
What Is Covered?
Zoleo Realtime Interface
Location Pages with History
Zoleo Realtime Interface
This is a real game-changer when it comes to satellite trackers. The vast majority of you have a SPOT or Garmin InReach. You also know SpotWall has to periodically ask SPOT and Garmin for new messages. This process is known as polling and is waste of time and resources. It's also a daily fee regardless if new messages are present or not.
All this changes for Zoleo users. You can now connect your Zoleo device to SpotWalla and Zoleo will send your device's messages (Check-Ins and Location Share+) to SpotWalla in real-time. This new interface sets Zoleo apart from the other satellite trackers from SPOT and Garmin. It also means SpotWalla will not assess an activity fee if you're not using your Zoleo device!
If you already have your Zoleo device configured in SpotWalla, update your device and click the Link My Device button. A popup window from Zoleo will appear. Simply follow the instructions. It's a quick and painless process.
For more information on Zoleo, their trackers and service plans, visit the ZOLEO website!
Location Pages with History
Ever since location pages were introduced back in July of 2008 some users have asked, "Why don't location pages show any history?" The standard answer has always been, "Well, the intention of a location page is to show the last known location of multiple devices on a map. History is what a trip is for."
And now, after almost 15 years, you have a choice to view a location with or without history. To see the history page, browse the location pages in SpotWalla:
Find the location page you want to view. Clicking the location page name will show you the standard location page without history. There's a link to the right of the name (With History). If you click that link, you will see the location page as well as a bit of history for each device.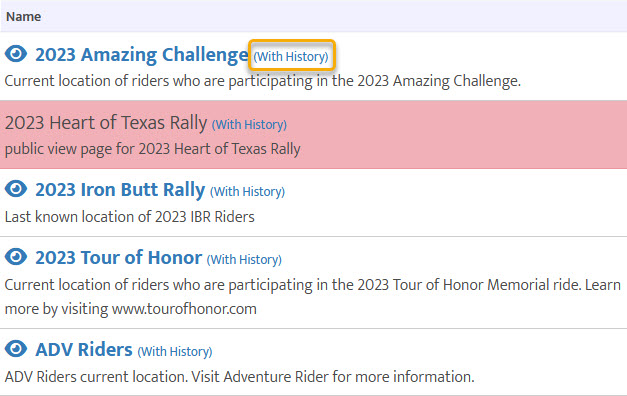 How much history? Currently, the amount of history is fixed to up to the last 50 locations for each device. Ultimately, the number of locations is constrained by the start/end dates of the location page.
Each device will have a different color track, but depending on the number of devices, there could be multiple devices with the same color. So many devices, so few colors.
Anyway, have fun with it.
As always, if you have any questions or concerns, please email SpotWalla Support and we will help.
Thanks,
SpotWalla Support