Email notifications allow you to send an email to any number of people when your device produces a chosen message type. Each device has its own notifications. You can manage them by going to the Device Manager. Find your device and click its name. Choose Email Notifications from the menu.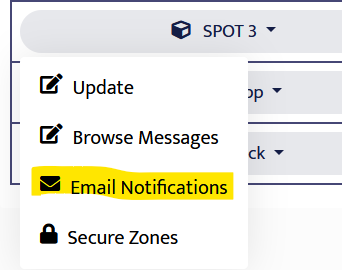 The notifications page will look similar to this: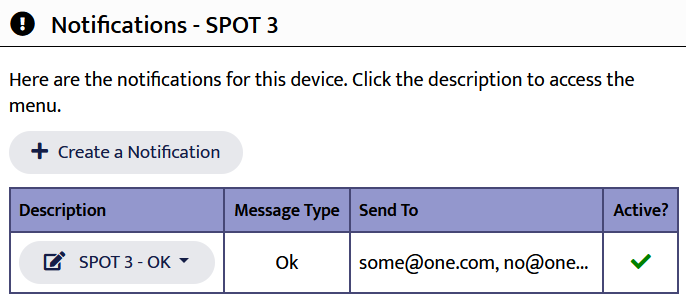 If the device has notifications, you will see them in a list. To update or delete an existing notification, click its name and select Update or Delete from the menu. To create a new one, click the Create a Notification button. You'll see this page: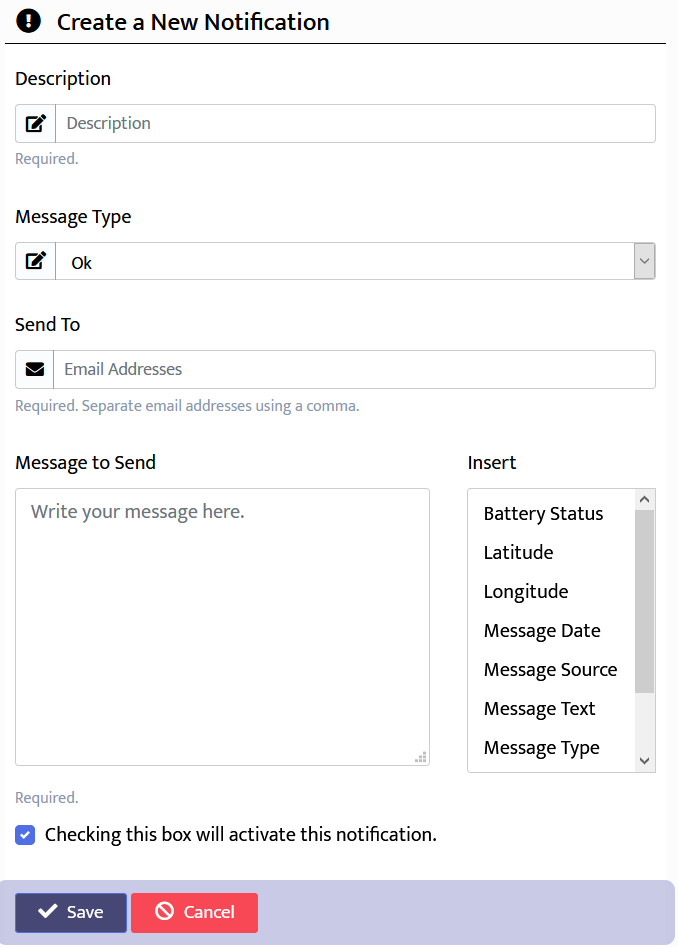 Enter a description and choose the message type. The list of message types is tailored to the type of device. So if it's a SPOT device, you'll see Ok, Help and Custom message types.
Now enter one or more email addresses in the Send To field. Separate each email address with a comma.
The message you want to send is customizable using parameters. Before sending the email, SpotWalla will replace each parameter in the message with the information it represents. You can easily add parameters to the end of your message by clicking a parameter name from the list to right of the message.
Here's the list of available parameters:
| Parameter | Description |
| --- | --- |
| %batteryStatus% | The battery status at the time the message was sent. Note that some devices do not report their battery status. |
| %latitude% | The latitude coordinate of this message. |
| %longitude% | The longitude coordinate of this message. |
| %messageDate% | The date and time the message was sent in the user's chosen timezone. |
| %messageSource% | The type of device that produced the message. |
| %messageText% | The message text sent with the message. |
| %messageType% | The type of message sent. |
| %privateTrips% | A list of active private trips. |
| %publicTrips% | A list of active public trips. |
Here's a sample notification I send when sending an OK message from my SPOT device. I use OK messages to mark overnight stops.
I'm stopping for the night right here...

%privateTrips%

Please don't share that link with anyone. Love you.
The %privateTrips% parameter will be replaced with the list of active private trips and my loved ones will be able to click the link and see where I'm at.
You can choose to activate/disable a notification. Remember to click the Save or Update button at the bottom of the screen.