Step 1. Log Into Your SPOT Account
The first step is logging into your SPOT Account. After logging in you'll see these options toward the top of the page:

Step 2. Click the Settings & Billing option.
Scroll the list down and find the XML Feed section. Click the View/Edit button. On the next page you'll see a Create XML Feed button highlighted below. Click that button.

Step 3. XML Feed Options
When setting the feed options, use this as a guide: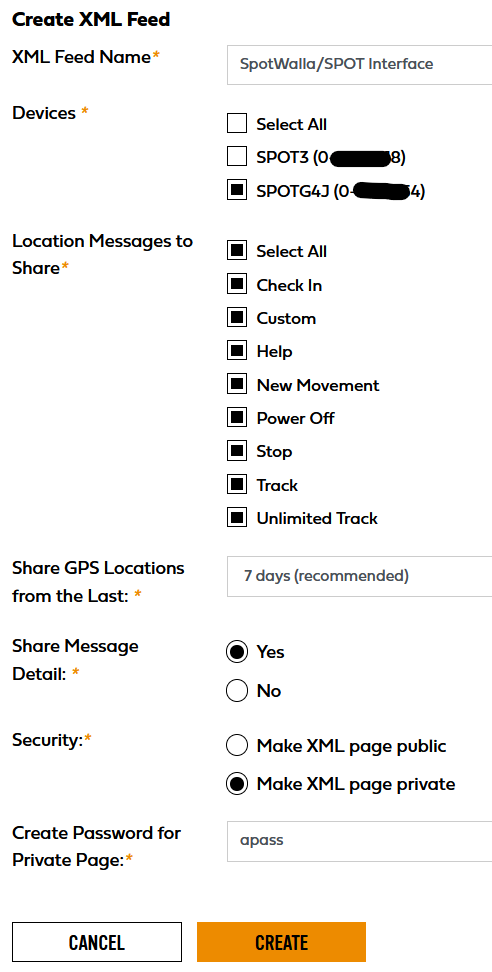 Set the feed name to SpotWalla/SPOT Interface or any other name that identifies this feed as the one you're using for SpotWalla.
If you have multiple SPOT devices, you'll need to create an XML Feed for each device you want to use with SpotWalla. So in the Devices list, only choose the one you're setting up now.
For "Location Messages to Share" click the Select All option. Choosing all available location messages to share will ensure SpotWalla receives all available messages.
We recommend sharing locations from the last 7 days - the maximum number of days.
We recommend sharing message detail. If you've configured messages for your OK, Custom and Help messages in your SPOT account, enabling this option will allow the messages to flow into SpotWalla.
We recommand making your feed private and setting a password. Please do not use your SPOT Account password here. Something simple will do.
Step 4. Acquiring the Feed ID
After setting the appropriate options, click the Create button. You will be returned to the XML Feed page. The new feed will appear in the list. Something like this:

Click the View Details link (highlighted above) to expose the feed details. You will see the XML Feed ID (also highlighted above). Copy the XML Feed ID.
Now log into your SpotWalla account and update your device. Use the XML Feed ID and password in the fields highlighted below: