Create Your Device First
Before attempting the steps below, you must first create your Zoleo device in SpotWalla. I know it's a bit lame, but it's how this works for now. So if you haven't created your device yet, make that happen and then come back to this section.
Step 1. Log Into SpotWalla and Update Your Zoleo Device
Log into SpotWalla, go to the Device Manager and update your Zoleo device. You should see a page that looks like: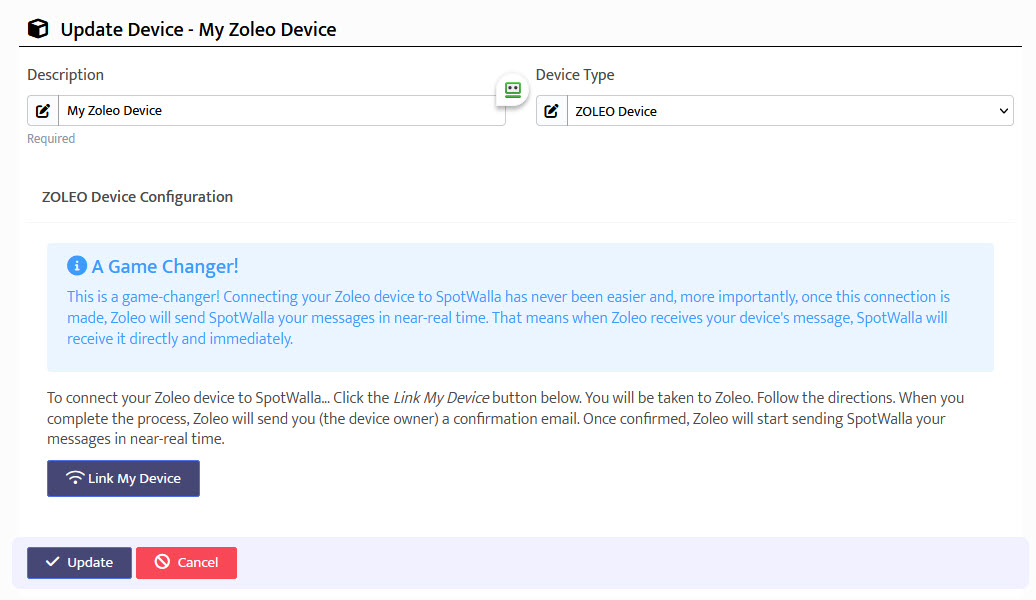 Step 2. Start the Zoleo Connect Process
Click the Link My Device button. This will display a popup window and initiate the connect process. If the popup doesn't appear, check your browser messages toward the top of the page as it may be asking for your permission to display the popup window. You will see this Window: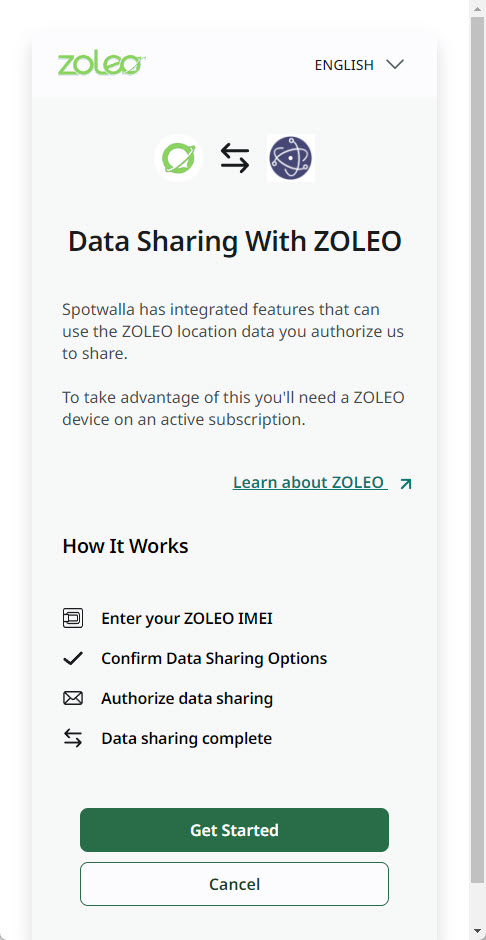 Step 3. Completing the Zoleo Connect Process
You will need your Zoleo device's IMEI number to complete this process. Click the Get Started button. The next page will look like: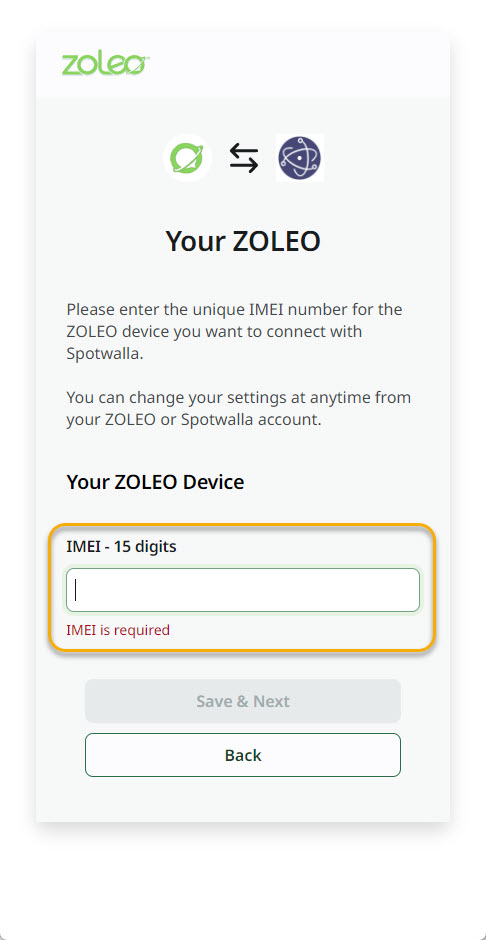 Enter your device's IMEI number where prompted and click the Save & Next button. You will see this page: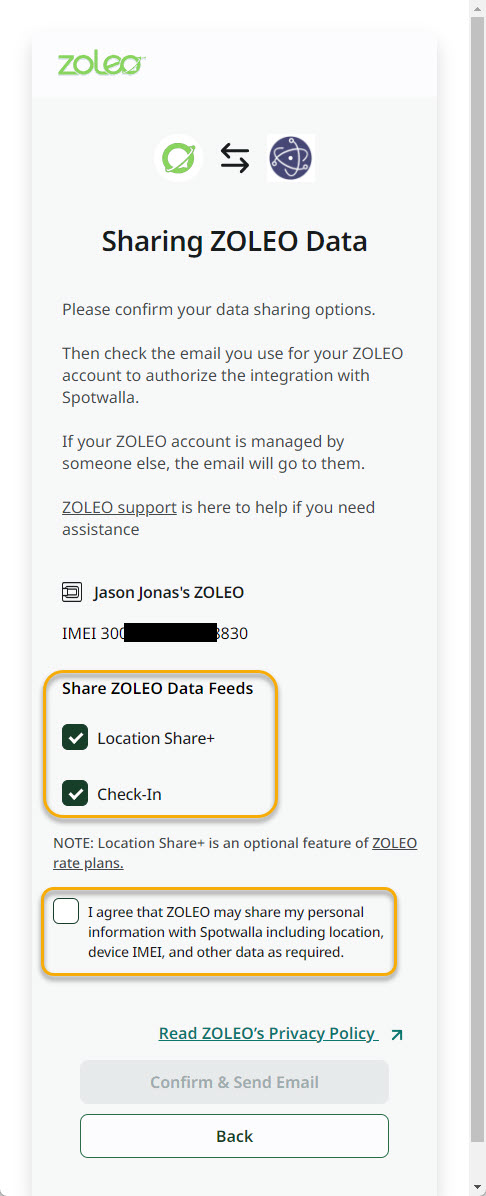 In the Share Zoleo Data Feeds section, click any options that appear. Location Share+ is Zoleo's tracking feature. It's an add-on feature to whatever base package you've chosen. If you want the device to automatically send location updates, this is a feature you will want to purchase. These messages flow to SpotWalla as Tracking messages.
The Check-In feed is Zoleo's manual check-in messages. These message flow to SpotWalla as OK messages.
Now click the Confirm & Send Email button. You completed the connect process, but it's not quite over. Zoleo is going to send you (or the account owner) an email.
Step 4. Confirming the Connection Request
The email Zoleo sends to the account owner is the final, critical step. The email will look like: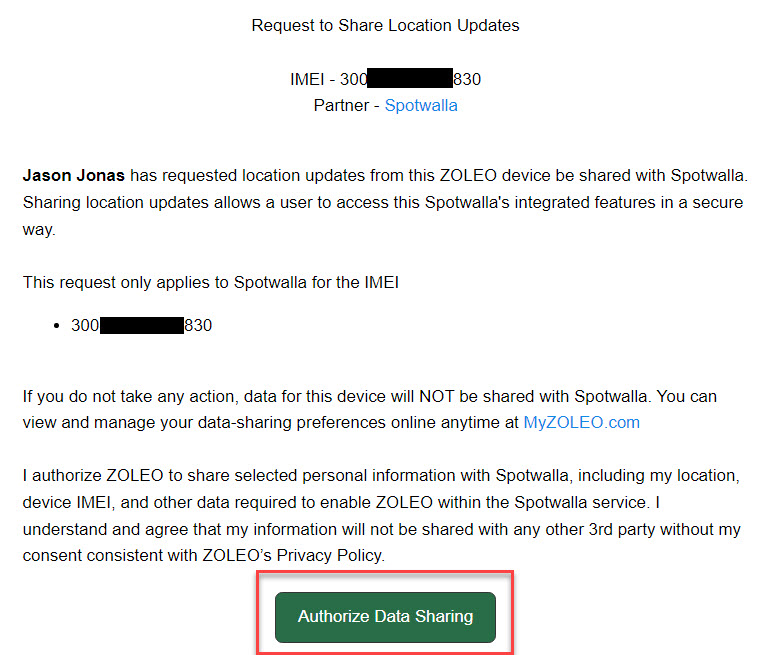 Click the Authorize Data Sharing button in the email and you will see a page similar to this: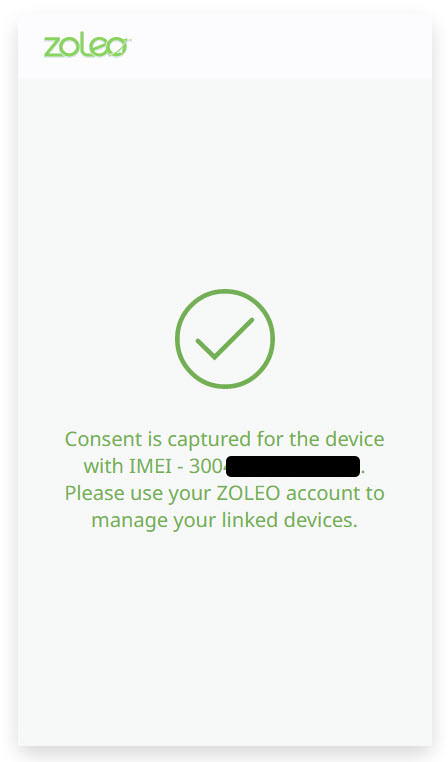 That's it. The connect process is complete and confirmed. Your device should be ready to go. And if you go back to the Device Manager you should see your Zoleo device:

In the right-most column you will see a green, active Wi-Fi icon indicating your device is currently connected.